Ed's Garage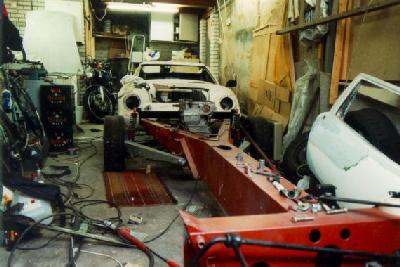 ---
My garage
I am in the very fortunate circumstance to own a house (largely by sponsorship of a friendly bank) that has a garage directly underneath it. The house is built in its present form at the beginning of this century. The living quarters were then situated over a warehouse. The house stands in the old center of Delft in a street that dates back to the 14th century.
As the picture shows the garage is quite large. At the entrance it is about 3 m wide with a sliding door of 2 m. The total length is 10 m and height is 3 m. After about 4 m the width becomes 4 m and in this section my work bench is placed. At the end there is toilet in a small corner for use of my renting architect (whose office is right behind my garage) and me.
Although quite large I have comparatively little storage room. This is one of the reasons the garage in the picture is such a mess. I will have make some racks to accommodate all my bits and pieces, although this will become less of a problem once my restoration gets underway.
Now that my restoration is over there is still little storage space. Although most parts are on the car now I have managed to obtain so many spare parts that little room is gained.
Another "complicating" factor is the other car thar I have obtained since january 2002. My Formula Ford racing car. This also takes up room and room. But it is fun so I can't complain.