This six-car dice was just as good as the battle for the lead, but despite Morgan's best efforts it looked unlikely that Wills could be prized off the podium. At least until the end of lap 15, when Dutch visitor Ed Waalewyn spun his Van Diemen RF82 in front of them all at Clearways and triggered something of a melee…
"I was committed to going around the outside of him when he spun," said Wills. "Then he took his foot off the brake and started rolling towards me. So I launched it into the gravel to try and miss him, and though that was frustrating at the time when I came round on the next lap and saw all the cars and wreckage and wheels stationery in the track then I thought maybe that wasn't such a bad decision…"
While Wills had missed Waalewyn, Prendeville would not be so lucky. He collected the RF82 and both cars came to a stand on the outside of Clearways, with Tannahill also getting involved and sustaining enough damage to put him out of the Final. The carnage wasn't over yet though, for twenty-five seconds after the initial incident along came the battle for 20th between Neil McArthur (Opal Telecom Van Diemen RF01) and Matt Darcy (Eventy.co.uk/Team Hugh Robertson Swift SC92).
"I was battling with Neil and we came up on it all absolutely flat-out," said Darcy. "There were no flags or anything, just this Classic FFord and an RF04 that seemed to be parked in the middle of the track.
"That's not the biggest shunt I've ever had but it's definitely the scariest. I really thought I was going to kill him (Waalewyn). I really did. There was nothing I could do and I was just so lucky that I didn't hit the middle of his car, because the nose of my Swift would have been like a knife through butter on that Classic car. I must have been a gnat's wing away from hitting him… I don't know how Neil avoiding hitting him harder either, kudos to him for that."
The incident happened towards the end of lap 15, and it took three laps for the safety car to collect the whole field. Some drivers appeared not to see the yellow flags and SC boards, for there was plenty of racing still going on initially.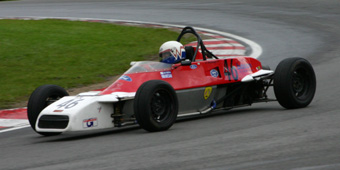 Waalewyn's Van Diemen RF82 didn't prove popular... (Image: Phil Burridge)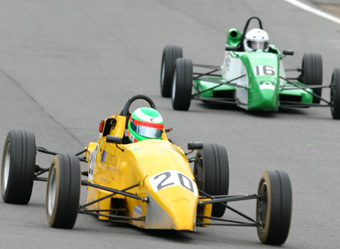 Darcy and McArthur were fighting hard when they came across the accident. (Image: Phil Burridge)
My comment: No matter what Darcy said and I am greatful that he was so concerned with missing me, which he did as he only toke off the right rear wheel of Prendeville's RF04, the marchals were frantically waving their yellow flags. I had a grandstand view and I was amazed at the pace of everybody passing us before the safety car came out. I waited in my car as that seemed the most safe place with the cars screaching by.