Hockenheim Race 3 and 4

15-17 June 2012
Qualification
Qualifying was hard work for Joost, a track that was new to him, new setup (secret for the time being), with high ambient temperatures, smearing rear tires. The morning qualification was the quickest as temperatures were still reasonable. Joost managed a fifth place only 4/10th behind Ed in fourth. Dieter Haeckel was uncatchable and he destroyed the opposition with Jaap closed and Matthew following suit. The afternoon session was slower and no one of the front runners could improve his/hers time. So most of the grid was the line up of the first qualification.
Race 1
In race 1, Ed was pushed off right on the entry into turn 1, leaving his front suspension unsuitable for further racing and forcing him to park the car after only a few hundred meters of racing (see video). Joost thus got into 4th, with Nils Leuber breathing down his neck left, right and center. Behind Nils, Alan Williamson was chasing along nicely, coming virtually out of nowhere, his Reynard obviously having found a new turn of speed somewhere. In lap 7 Alan overtook Nils, Nils was hit by Tony Krumbach and lost contact. Alan was pushing harder than Joost wanted all the way to the finish, but Joost held on to 4th.
Race 2
Race 2 started badly for Joost with a missed upshift from 1s to 2nd, leaving him like a sitting duck in the water, with Alan, Nils and Rebecca Dean showing no mercy at all by passing him instantly. Thus, all hard work of race 1 was instantly being wasted. Joost did not feel very Zen at that moment, and to add insult to injury Dieter H's van Diemen broke a rear hub on the back straight while leading the pack. This meant that Joost could have been 3rd on the first lap ! Anyways, Nils spun off at the hairpin on lap 1, and it took Joost some laps to get past Rebecca. By that time Alan had opened up a gap and Rebecca was giving Joost a hard time, her car running very fast in a straight line. She managed to overtake Joost on the backstraight on lap 9, and was still leading into the final lap by about 30 meters. By this time, his rear tires were smearing, although the car was behaving more civilised than the day before after some last-minute setup changes. On that last lap, she tried to out-break Alan into the sharp left Senna corner, but overcooked it and ran very wide into the run-off area. Joost managed to pass her again and so they finished 4th and 5th, with Alan leading us both. Matthew Dean won and Jaap Blijleven came 2nd.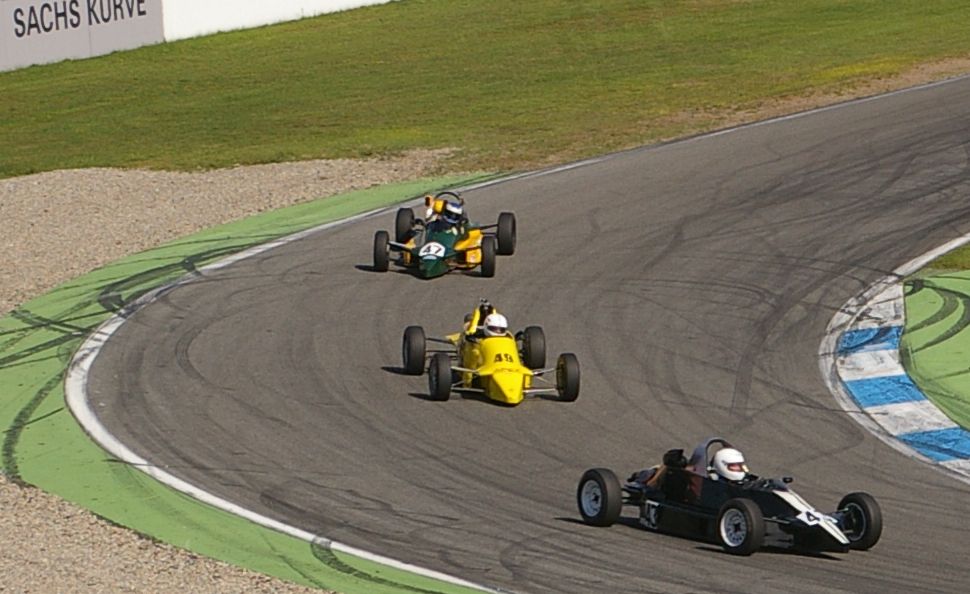 Ed had to start from the back of the grid, putting him in a rather chaotic part of the grid. His inside rear wheel was hit at the hairpin, spinning him off and leaving him without even a fighting chance for a good finish position. Not his weekend.