A renewed encounter with the famous Monza track after a journey in two stages. There was a free practice on Friday but due to inexplicable problem while trying to set my ignition I could not participate. The morning qualifying was on a wet track which dried out a little bit as the rain had stopped. I made a effort not to make mistakes because I knew the afternoon session would be dry and that would decide the final placement on the grid. I gradually build up my times and I got ever quicker. A mistake at the first chicane under braking when I had to take the escape road upset the rhythm but I got going again and I finished with a time of 2:40 at a 5th spot overall and 3rd in class - Paul McMorran and Alan Crocker in their old cars mixing it with the modern cars of Hanno Hess and Chris Stones.
Class
1st Qualification
2nd Qualification
1
Hanno Hess
van Diemen RF88
B
2:35,945
2:10,115
2
Tony Walsh
Reynard SF88
B
2:41,263
2:10,430
3
Matthew Dean
Reynard SF88
B
—
2:11,116
4
Chris Stones
van Diemen RF85
B
2:39,462
2:12,078
5
Ed Waalewijn
van Diemen RF82
B
2:40,424
2:13,950
6
Alan Crocker
Ray FF71
C
2:37,005
2:13,968
7
Roberto Kraft
Swift HDR88
B
2:42,942
2:13,994
8
Rebecca Dean
Reynard SF88
B
2:46,177
2:15,810
9
Nigel Lingwood
van Diemen RF80
B
2:43,017
2:15,880
10
Paul McMorran
Crossle 25F
C
2:35,411
2:16,864
11
Paul Hubbard
Merlyn

 

Mk 20
C
2:56,760
2:17,191
12
Nils Leuber
Vaney 71/2
C
3:01,311
2:17,251
13
Stephen Collyer
Dulon MP15(Merlon/Dulyn)
C
2:49,098
2:19,495
14
Guther Böhm
Swift HDR88
B
2:51,544
2:22,042
15
Povl Barfod
Titan Mk6
C
2:54,935
2:23,497
<![if supportMisalignedColumns]> <![endif]>
Race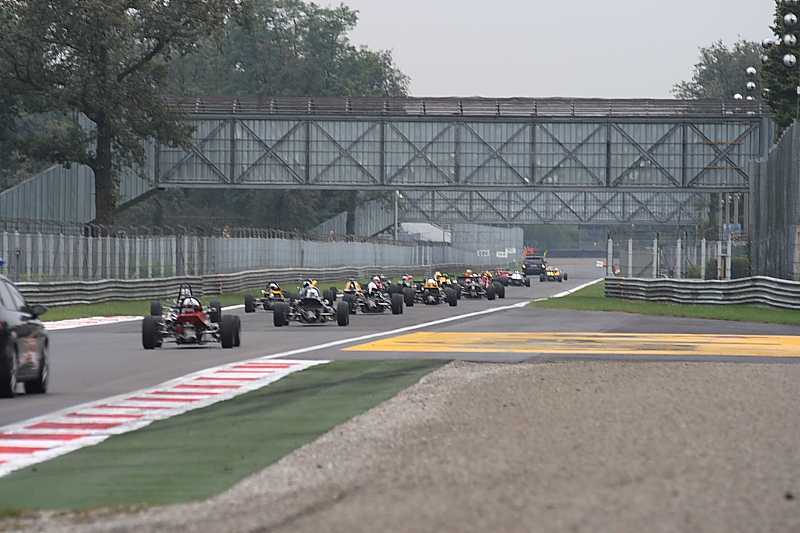 On our way to the start
Due to a little rain at the end of the night the track was moist and it did not dry out due to the heavy cloud coverage. Luckily there was no spray which is a definite bonus when you go for the lights. The grid of the 1600s was again divided by several two-litres. I was behind Chris Stones, who was at the other side of the track and right in front of me was the two-litre of James Ledamon. Frank Ludwig's two-litre was also between us and Matthew Dean. I would try to get in front of the two-litres as was the strategy of Matthew who also had two cars in front of him before he could get to his next opponent, Tony Walsh.
The start was a two stage affair. As we headed for the line everybody accelerated, but the light didn't change. I was already in second, but as the whole field decelerated I slammed it back into first. I got away from
Chris and was following the two-litres in front. In the first chicane James Ledamon overdid it and in the melee that followed I could pass Frank Ludwig. I was behind Peter Richard (2L). Frank tried to retake his position but could not get his car beside mine before the second chicane, so I decided it was my corner and I turned in. A big thud followed and my car was pushed round by Frank's car. I was stagnant in the middle of the track, so the rest of the field could only just avoid me. With all these cars coming up to me I didn't have time to asses the damage. Luckily I couldn't see anything so I started the car and set in the pursuit.
In the first Lesmo corner Alan Crocker and Roberto Kraft were standing waiting for the field to miss them. I passed them both as they too started their pursuit. At the finish straight both of them used my slipstream to pass me. Roberto flew by giving testament to the straight line speed of his Swift. I had a scrub with Alan where I passed him again in the second Lesmo. He passed me and I re-passed his, eventually I got free of Alan and I set out to pursue Roberto. Initially I could not close the gap he had pulled out. We were approaching the back-markers. These were all passed with ease as there is no possibility to fend of a quicker car like mine. Only the Swift of Günther Böhm took a little more effort.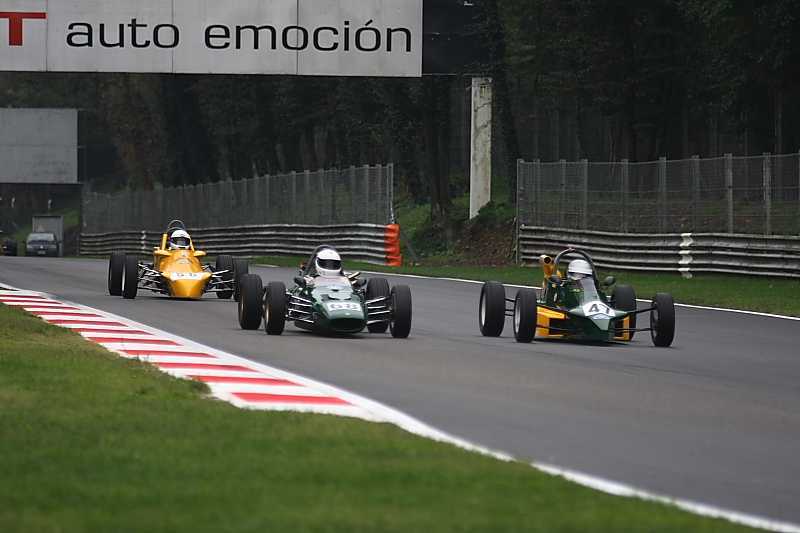 My target
I was now seventh in class when I passed Chris Stones who signalled he had technical problems (brakes). I was sixth and catching Roberto. Before we could see who was fasted he messed up the first chicane and I passed him as his car was pointing in the wrong direction on the second apex. I could see Rebecca Dean in the distance and as she was just ahead of me in the championship I set out to catch her. I quickly gained on her when I saw her brother standing by the side of the track. I now was fourth with a view at the third place.
I caught Rebecca in the penultimate lap and passed her, thanks to the tow up to the Parabolica. At the straight she flew past me so I bided my time as any early overtaking would result in her counter on the various straights. I left my manoeuvre till the last corner and I passed her in Parabolica. We both raced to the finish line and as my foot was firmly planted on the accelerator I watched her getting alongside of me. At the finish I had half a metre of advantage left (a real Peter Gethin finish).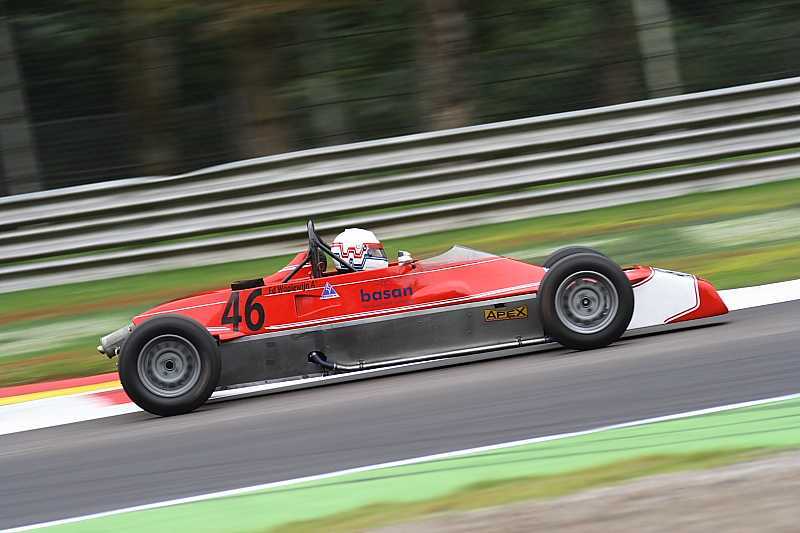 On my way to the third place
I went to Harald to see whether there was a podium for all classes, as Paul McMorran was still in front and third overall in the 1600s. There was so I was on the podium - a first for me! Harald however told me I was fourth and Rebecca was third. I protested as I was sure I was ahead on the finish. This protest resulted that the finish photo had to be checked. Rebecca meanwhile told me her transponder was in the nose of her car and as mine is in the middle this could account for the mix-up. The finish photo confirmed my observation and I was actually third. I finally got to mount the podium. Unfortunately there was no lovely lady to award the prices and kiss for the victors but you can't have everything.
Race results