Spa
I toke my precautions after my little mishap at Nurburgring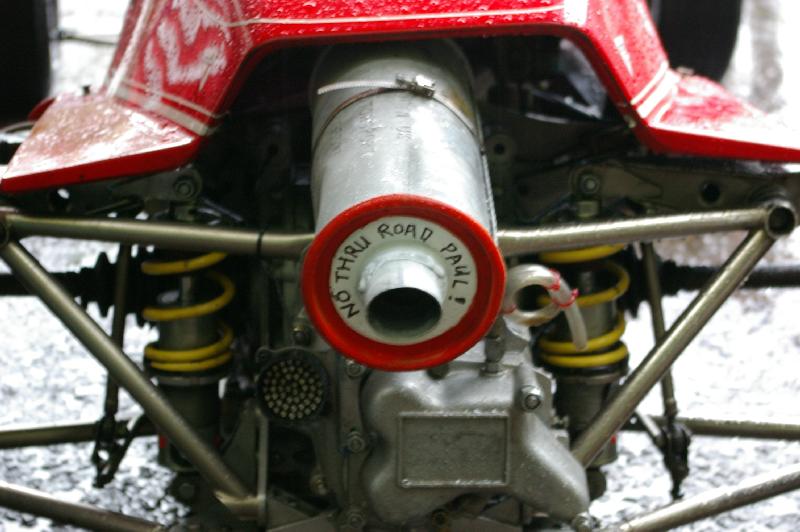 Free practice
Free practice was held under torrential circumstances. A lot of people didn't go out although they had bought tickets, but I wanted to test my Dunlops in the rain. The session wasn't that bad and the tires held up quite well under the conditions. The grooves of the Dunlops are a bit wider than those of the Avons so they are less prone to aquaplane
First qualifying
Again we had a wet practice. I think this year more than half the sessions were wet or wettish. I had to content with Harald through most of the session where I would be quicker through the quick part (bigger balls) and he had the edge on me in the slower parts. I generally kept in front until I overdid it in Pouhon and did a nice 360° after entering a bit too quickly. My best time was 3:20 which was a bit disappointing considering the times of other drivers.
Second practice
I generally find that when I have a target I am much quicker on the ball than when I am out on my own. After the start of the practice I followed Chris Whittingham and I could keep up with him quite easily. At some stages I was quicker through Eau Rouge and I tried to pass him on the way to Les Combes. Although I closed in on him fast getting by was not easy. I finally got by as I was confident I could go faster. This proved to be the case although my fastest lap was cheating a bit since I cut across Raidillon.
Qualification results FF1600
1
Hanno Hess
van Diemen RF88
B
3:14,190
2:47,768
2
Jaap Blijleven
Reynard FF88
B
—
2:48,248
3
Matthew Dean
Reynard SF88
B
3:18,041
2:48,934
4
Alan Crocker
Ray FF71
C
3:11,435
2:49,750
5
Chris Stones
van Diemen RF85
B
3:17,239
2:49,889
6
Ed Waalewijn
van Diemen RF82
B
3:20,849
2:50,502
7
Chris Whittingham
Reynard SF88
B
3:16,361
2:51,710
8
Paul McMorran
Crossle 20F
C
3:18,498
2:52,954
9
Onno Zuidersma
van Diemen RF87
B
3:17,442
2:53,710
10
Yann Decean
Rondeau M 584
B
3:22,159
2:53,951
11
Jorg Grieshaber
March 718
C
3:17,636
2:54,717
12
Rebecca Dean
van Diemen RF87
B
3:18,794
2:56,280
13
Roberto Kraft
Swift 88
B
3:29,198
2:56,389
14
Stephen Collyer
Dulon MP15
C
3:30,616
2:57,004
15
Felix Haas
Mallock Mk 9
C
3:27,809
2:57,133
16
Phillipe Demeyer
Merlyn Mk 20
C
3:32,136
2:58,279
17
Paul Hubbard
Merlyn

 

Mk 20
C
3:29,953
3:00,588
18
Gunther Böhm
Swift HRD 88
B
3:28,971
3:02,758
19
Povl Barfod
Titan Mk 6
C
3:31,565
3:04,758
20
Nils Leuber
Vaney 71/2
C
3:34,072
3:06,571
21
Antonio Garrido-Mayer
van Diemen RF87
B
3:29,409
—
22
Thomas Rohmer
van Diemen RF87
B
3:33,162
—
<![if supportMisalignedColumns]> <![endif]>
Race
The race again was wet. I was determined to keep up with the leaders. After a reasonable start, it was a bit difficult to drive round some cautious FF2000 cars. I was just behind Alan as Chris Whittingham had overtaken me and got among the front runners of the 1600. As we arrived at Stavelot it all went pear shaped. I lost the back end and went into the gravel backwards. Although I kept the engine running there was no way to go and I was left at the mercy of the Belgian marshals.
After I saw the complete field passing me from my track side stand, two marshals came to my car and tried to push it. Unsurprising this was to no avail so they signaled a fork lift truck of sorts to come. As this contraption move toward me slowly, I wondered why it hadn't done that in the first place. I thought that they would lift me back on the track as I was only two meters from solid ground. I hadn't anticipated the logic of the Belgian marshal. They fitted a rope on my roll over hoop and pulled me back through the gravel trap while the whole field was lapping me. Instead of moving me 3 m to the track they were moving me through the complete graveltrap and when I was finally ready to rejoin the race, the field started lapping me for the second time.
I rejoined just before the 1600 leader who lapped me quite fast. I tried to keep up but my pace wasn't competitive. The rest of the race I tried to keep the car on the straight and narrow. Furthermore I tried not to be in the way of my fellow competitors who were, contrary to me, still fighting for positions. As I tried to finish the race I found that on Dunlops the car was very difficult to control in slow turns but compared to Avons the fast bends were better. I finished the race at a last place.